The center Geopolitics of the Datasphere (GEODE) opened on September 1, 2018. It is part of the French Institute of Geopolitics (IFG) of the University Paris 8. It will be physically located on the Campus Condorcet, a new human and social Sciences campus focusing on interdisciplinary research and digital humanities presently under construction and located in the North of Paris.
The emerging notion of datasphere captures in a single concept the strategic challenges related to cyberspace but also the geography of data and dataflows, the understanding of the informational space, the cartography of topological networks and the fusion of geolocalized and non spatialized data.
Our team is mutlidisciplinary and comprises researchers in geopolitics, law, mathematics, computer science, history, sociology and philosophy. We gathered around the team of the French Institute of Geopolitics (Paris 8), researchers from INRIA, The Ecole Normale Supérieure (ENS), the University Paris Descartes, the University of Savoie, the Saint-Cyr French Army Academy.
Our goals are to :
build capacity by training the next generation of academics and professionals
Our ambition is twofold : provide all students in geopolitics with an understanding of the strategic challenges linked to the datasphere  and train specialists of this new field. Our curriculum will include basic and advanced technical courses for social scientists.
enhance the understanding of this new strategic environment and anticipate evolutions
This involves studying cyberspace as a new strategic domain and more broadly the emerging concept of datasphere in order to capture the strategic and democratic impacts of the digital revolution
conduct meaningful research to inform cyberstrategies of government, companies and institutions
There is a strong need for academic expertise in the French government on cyber issues and the changes brought about by digitalization. Our close relationship with institutions bridges the gap between academia and policy and we want to build on it to develop the field.
influence policy and the norms building process to reduce conflict, mitigate risk, and facilitate international cooperation to preserve the security and stability of cyberspace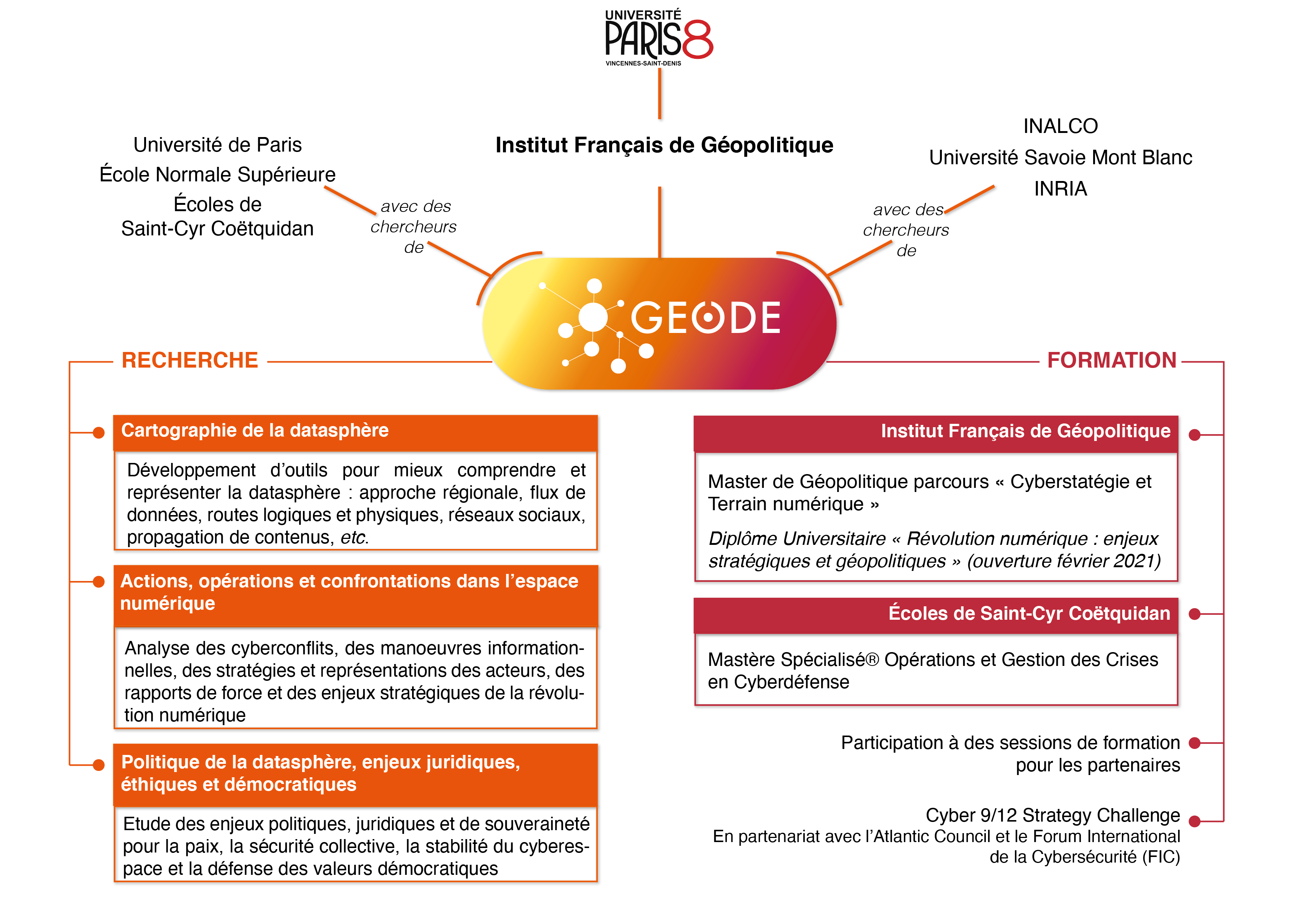 Subscribe to our mailing list
The mailing list allows you to be kept informed of our latest news, publications and upcoming events.
To register, enter your email address in the field below. We will only use it to send you communications about our activities. You can unsubscribe from the mailing list by using the special link in the emails.